The French savoir-faire

The Blue Turtle Hotel is a mix between the Sri lankan Happiness & the French "savoir-faire".
It is a French family-run business owned by Fernando and his son, Oliver.
The project has started in 2012, in Paris, when Fernando decided to build a hotel in Sri Lanka after a successful 25+ years experience in the restaurant industry. With his son, they bought the land and started the construction in 2014. In January 2015 the Blue Turtle Hotel welcomed its first guests. Few months later, Oliver's wife, Préscilia, joined them.
Kevin and Philippe -Oliver's brothers- still at school, would work from France on the online reputation of the hotel and all partnership related topics.
All five coming from different fields, every single aspect of the Blue Turtle Hotel is original and that is what makes it different from other conventional properties.
One thing we believe at the Blue Turtle Hotel is that you are not only looking for a nice place –which is quite easy to find in Sri Lanka- but you are also looking for a place in which you will feel at home.
Due to our down South location, most of the time, you will visit the coasts or the center of Sri Lanka before reaching us. We are literally in the middle of your trip and this is why it is very important for you to find a place where you can relax and recharge your battery before continuing the rest of your journey.
With this in mind, we have designed the rooms, the garden, the restaurant & bar and our food menus accordingly.
The Blue Turtle Hotel's main goal is to offer you a memorable stay which will make you want to come back again.

What does the Blue Turtle Hotel look like?

In an area of one hectare, four two-storey buildings with balconies overlooking the infinity pool are placed in the center of an amazing garden which also accommodates turtles, peacocks, monkeys, squirrels, lizards and a lot of bird species.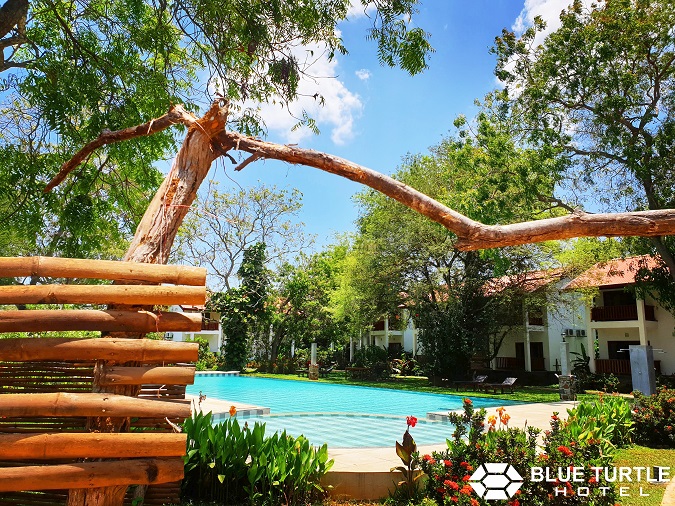 In the large open main building, the restaurant and its live kitchen where you will be offered various choices of Sri Lankan & Western food. All freshly cooked in front of you.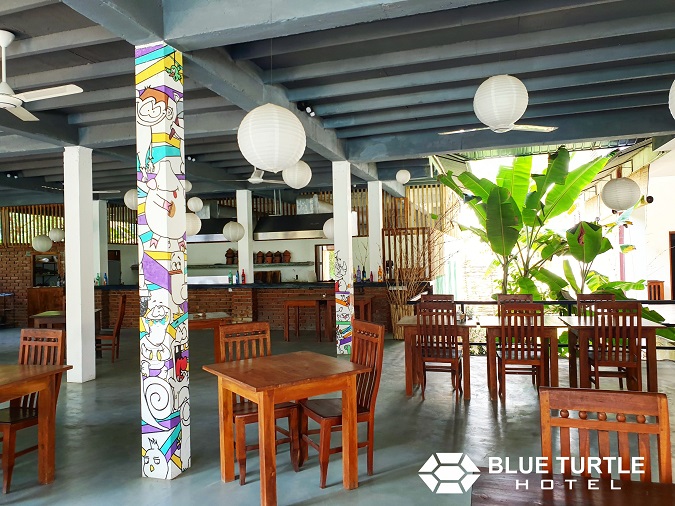 The bar which is just next to it -and overlooking the pool- will offer you a large selction of drinks including cocktails and fresh juices.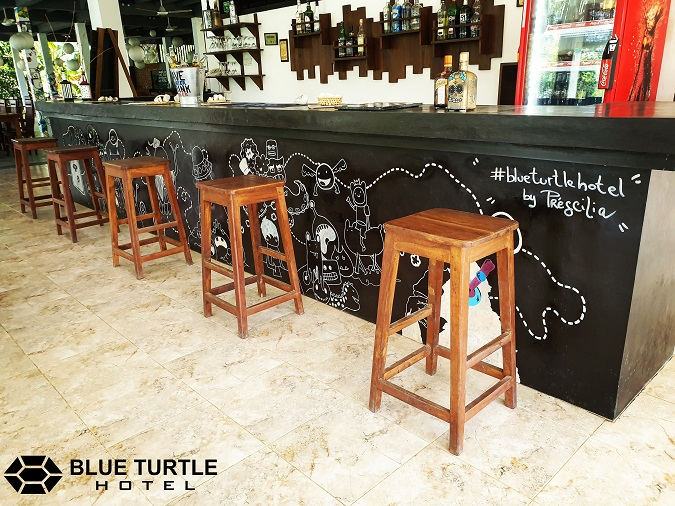 Closer the front desk, the Little Turtle shop, managed by Préscilia, will be an opportunity for you to bring home beautiful handmade souvenirs, from clay elephants to bracelets and dog collars.



On the second floor of the main build, you will find a 600 sqm yoga area overlooking the pool and our massage rooms.
On the third floor, our brand new Eco Twin rooms will offer you maximum tranquility.
Everything has been built to offer you as much space as possible.
The hotel has only 21 rooms but facilities are made for more:
- A 25x10m infinity pool with a jacuzzi and a kids' pool.
- A tropical garden of almost one hectare
- A 2000 sqm ground floor main building with a 610 sqm open lobby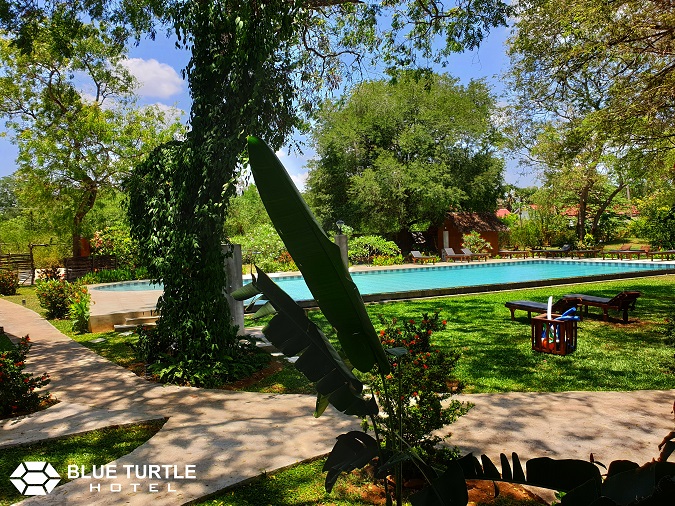 Also, when the sun is down, the optic fibers inlayed in the bottom of the pool will offer you a wonderful star-like spectacle.

Wait no longer, the Blue Turtle Hotel is definitely the ideal spot for you to choose whenever you are in the Tissamaharama - Yala - Kataragama area.
We do not say we are the best, everybody says it! :)